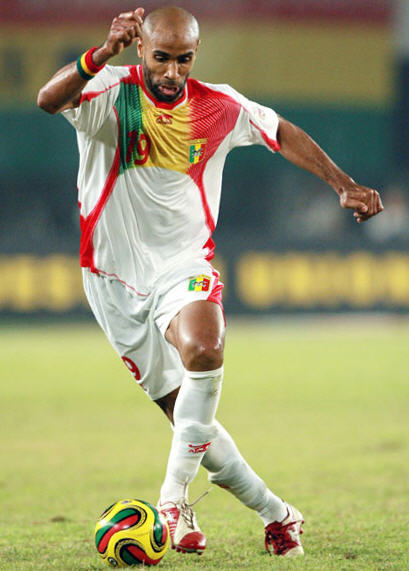 Flag of Mali
First international: Mali 4-3 Central African Republic (1960)

Biggest win: Mali 11-0 Mauritania (1972)
Biggest loss: Kuwait 8-1 Mali (1997)
Most capped: Seydou Keita (73 caps)
Star player: Seydou Keita (Dalian FC)

Ahh I bring you the shirt of Mali now. Mali is probably my favourite footballing country and I will now tell you why. Before Frederic Kanoute announced his desire to play for Mali I had never heard of them but then once he did I did a bit of research on them and found out they had quite a few decent players. Although now Kanoute has retired from international football if I am correct. I have then been Mali on pretty much every Football Manager game and they were my favourite team to be on the FIFA World Cup game 2010. Soumaila Coulibaly had a rocket of a shot for them on it so if you still own it, go be Mali and play him and you'll see what I mean. Also one of Liverpool's worst players at the time is a national for the side. That player is Djimi Traore but I liked him for how bad he was at times but then he'd go and do something brilliant. Momo Sissoko who was at Liverpool for a few seasons also is from Mali and they have players like Seydou Keita of Barcelona and Mahamadou Diarra who is now at Fulham. So yeah a pretty decent squad overall. I'd suggest people to be them on Football Manager to if you have them.
I have been after an Airness Mali shirt since I started collecting and when I saw it pop up on eBay I just had to get it. Airness are a very hard brand to deal with as they never respond to emails and do not seem to make replica shirts anymore so this made this shirt even harder than usual to find, but then an Australian seller on eBay had one going and my lucky day finally arrived and this was a nice Christmas present to myself.
Mali have reached the African Nations final once in 1972 which they lost 3-2 to Congo. In the 2010 African Cup of Nations Mali were 4-0 down to Angola with 15 minutes to go. They managed to draw the game 4-4 which was to everyone's surprise which can be seen in the video below. The country is currently in a bit of trouble with civil war breaking out and football is not at the top of everyone's lists with players not being played etc. They have qualified for the 2013 AFCON where I'd expect them do well again, could they win it? Maybe?